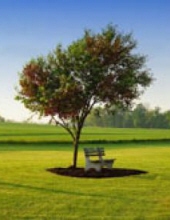 Obituary for Mr. Claybourn Russell Howard
Mr. Clabourn Russell Howard, age 76 of Madison, IN, passed away Monday, April 17, 2017 at the King's Daughters Hospital in Madison. Born November 5, 1940 in Rockcastle County, KY, he was the son of the late Green and Alva (Allen) Howard.

Mr. Howard spent most of his life in Madison, and retired from Indiana Gas Company Vectren after thirty years of service as a welder. He was a member of the Pipe Fitters Union.

Mr. Howard loved to spend time outdoors, walking in the country, fixing clocks, and working on C.B. radios. He built several feeders and enjoyed watching birds and squirrels eat from them. He also loved dogs, but none more than his "baby", Hannah.

He married Marie (Huffington) Howard on September 7, 1999 in Gatlinburg, TN. He was respected by Marie's children: Cathy Abbott, James Snell and Joseph Snell for the devoted warm love that he had for her. They always knew that she was taken care of and was safe in his arms. She called him her "Gentle Giant". It was a common sight to see him open doors for Marie, carry in groceries, and cook dinner for her. Marie would always come home to a fresh pot of coffee.

Mr. Howard will be sadly missed by his wife: Marie Howard; two daughters: Sabrina Stewart of Clarksville, IN and Barbara Howard of Jeffersonville, IN; step-children: Cathy Abbot and her husband, Raymond, James Snell and his wife, Vickie all of Milton, KY and Joseph Snell and his fiancé`, April Austin of Madison; sisters: Loretta Wynn, Darlene Ashcraft, Laural Sheets and Dema Sue Taylor; two sisters-in-law: Katherine Howard of Livingston, KY and Rosie Means of Hanover; two brothers-in-law: Dennis Huffington of Delphi, IN and Jim Huffington of Madison; six grandchildren and four great grandchildren.

Mr. Howard was preceded in death by his parents: Green and Alva Howard; one son: Terry Howard; two brothers: Otis Howard and Clyde Howard; and two great granddaughters: Hannah and Haley Craig.

The Reverend Ben Colburn will conduct funeral services at 7:00 PM Friday, April 21, 2017 at Lytle Funeral Homes & Cremation Services, Main Street Chapel, 423 West Main Street, Madison.

Friends and family may call at the funeral home from 4 to 7 PM Friday.

Committal services will be held at 10:00 AM Saturday, April 22, 2017 at the Gilbert-Howard Family Cemetery in Livingston, KY.

The family request memorial contributions be made to the Madison-Jefferson County Animal Shelter. Contributions may be made at any of the Lytle Funeral Homes & Cremation Services locations.
Previous Events
Visitation
Lytle Funeral Homes & Cremation Services
423 W Main St
Madison, IN 47250
Funeral
Lytle Funeral Homes & Cremation Services
423 W Main St
Madison, IN 47250
Interment
Lytle Funeral Homes & Cremation Services
423 W Main St
Madison, IN 47250