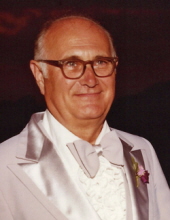 Obituary for Austin Dyche Ponder
Mr. Austin Dyche Ponder, 97 of Stanford, died Saturday, September 23, 2017 at his residence. He was born in Red Hill, KY on March 28, 1920 the son of Daniel Minitree and Mary Ann Mullins Ponder. He was a farmer, a KY Colonel and a WWII Navy and Army Air Corps veteran. He was member of Gilberts Creek Baptist Church in Garrard County, KY.

Mr. Ponder is survived by two sons: Bill Frank Ponder of Stanford and Jeff and Kathy Ponder of Lexington and two daughters: Juddie and Ed Donaldson of Versailles and Jennifer Ponder of Victor, ID. Also surviving are ten grandchildren: Dan Lewis, Kathy Lewis, Aubrey Donaldson, Austin Donaldson, Zelie Donaldson, Amy and Andrew Ginn, Logan Ponder, Emily Ponder, Carly Woken and Lily Wolken and two great grandchildren: Matthew Ginn and Meritt Ginn. In addition to his parents, Mr. Ponder was preceded in death by his wife: Margaret Ponder; three brothers: Seldon, Dale and Caleb Ponder and two sisters: Agnes Carroll and Bernice Griffin.
Previous Events
Visitation
Dowell and Martin Funeral Home
365 West Main Street
Mt. Vernon, KY 40456
Memorial Service
Dowell and Martin Funeral Home
365 West Main Street
Mt. Vernon, KY 40456