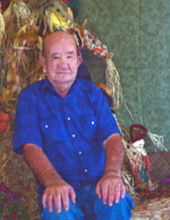 Obituary for Albert "Holly" Banks
Mr. Albert "Holly" Banks, 78 of Mt. Vernon, died Sunday evening, July 30, 2017 at Rockcastle Health & Rehabilitation Center in Brodhead. He was born in Rockcastle County, KY on December 11, 1938 the son of John and Edna Lutes Banks. He was a farmer and a member of Maple Grove Baptist Church.
He is survived by a brother, William and Lucille Banks of Harrodsburg; and three sisters, Ann Carpenter and Martha Fox, both of Hamilton, OH, and Alice Banks of Mt. Vernon. In addition to his parents, he was preceded in death by three brothers, Bluford, Elmer, and Robert Banks; and a sister, Verola Banks.
Cemetery Details
Location
Scaffold Cane Cemetery
Scaffold Cane Cemetery Road
Mt. Vernon, KY 40456