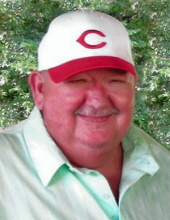 Obituary for James Isaac Bowman
Mr. James Isaac Bowman of Taylor Mill, KY, formerly of Mt. Vernon, lost his battle with ongoing medical issues on Saturday, June 16, 2018. He passed peacefully at home surrounded by family. He was a member of Oakridge Baptist Church, enjoyed hunting, fishing with his grandsons, great granddaughter, and family. He was known for his humor and unconditional love for others. He was loved by those who knew him and will be missed.
James was born on February 4, 1942 to Jack and Carrie Jordan Bowman of Mt. Vernon, KY. He is preceded in death by his daughter, Pamela Ruth Bowman; parents, Jack and Carrie Bowman; brother, Jack Bowman, Jr.; and sister Stella Obenshain. He is survived by his wife, Imogene Wolfe Bowman; daughters, Denise (Bob) Bailey, Debbie (Helio) D'Anna; grandsons, James Tanner Thompson and Trevor Michael Thompson; great granddaughter, Kinslee Thompson; several nieces, nephews, cousins, special friend Harold Lyman and beloved dog, Sophie.
Visitation will be 5-6:30 PM Friday, June 29 at Oak Ridge Baptist Church in Covington. Graveside service will be 2 PM Saturday, June 30 in Jordan Cemetery at Wildie.
Memorials, if desired, may be directed to St. Elizabeth Hospice, 483 South Loop Drive, Edgewood, KY 41017.
Local arrangements are by Dowell & Martin Funeral Home.
This is a courtesy obituary for Allison & Rose Funeral Home.