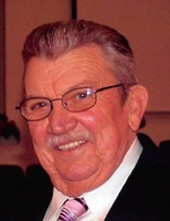 Obituary for Alvin Carl Owens
Alvin Carl Owens, 77, of Hillview, Kentucky returned to his Heavenly Father on Monday, April 23, 2018. Mr. Owens was born on September 3, 1940 in Mount Vernon, Kentucky. He retired from Dawson Bridge Company after many years of designing and constructing bridges.
Mr. Owens is preceded in death by his parents, Albert and Thelma Owens; first wife, Sue, and second wife, Ann; brothers, Aden and Tilman Owens.
He is survived by his children; Carl Owens, Gayla Tincher (Brad), Jerrol Owens (Myra) and Daryl Owens (Christy); grandchildren, Heather Lynn (Mark), Kelli Heil (Andrew), Hannah Owens, Carmen Owens, and Megan Owens; great-grandchildren, Charlotte, Aubrey, and Asher; siblings, Vonnie Mink, Delbert Owens, Norman Owens, and Debbie Oliver; and a host of nieces, nephews and other friends and family.
Funeral services will be held on Friday, April 27, 2017 at 10:00 am in the chapel of Schoppenhorst, Underwood and Brooks Funeral Home (Preston Hwy. at Brooks Rd. Shepherdsville, KY) with burial to follow in Lovell Cemetery in Mt. Vernon.. Visitation will be held on Thursday, April 26, 2017 from 2:00 pm – 8:00 pm at the funeral home.
This is a courtesy obituary for Schoppenhorst, Underwood, & Brooks Funeral Home.