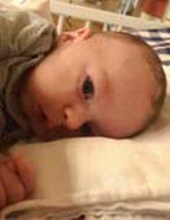 Obituary for Lynnox Everett Decker
Lynnox Everett Decker was born April 25, 2017. He was loved to the moon and back by his loving parents, Chris Decker and Amanda King of Orlando, KY. He was simply too precious for this world and gained his angel wings on July 2, 2017. Lynnox has a beautiful big sister named Leyton Rose Decker.
He is the grandson of Eddie Callahan and Machelle Decker-Callahan of Mt. Vernon and Charles and the late Patti King of Berea. Great grandparents are Sherry Decker and the late Eddie Decker, Yvonna and the late Everett King, the late Sue and Leonard Johnson, and Reta McFerron and the late Jessie McFerron. Lynnox is blessed with Great-Great Grandma Lucille Stewart. Lynnox is the nephew of Brandon Bussell, Drake Callahan, Tina Blanton and Rodney, Josh McFerron and Gabrielle, Rhonda Shepherd and Lloyd, Steve Brockman and Kathy, Arnold Brockman, Jeff Brockman and Kristen and Jennifer Brown and Mark. He was adored by two special friends of the family, Stanley Adams and Brooke Bentley, and by a whole slew of followers who we lovingly refer to as "Team Lynnox".
There will be a public visitation Friday, July 7 from 6-9 PM at Dowell & Martin Funeral Home. The funeral service and interment will be private. The family would like it known that the funeral arrangements have been taken care of financially.
Previous Events
Visitation
Dowell and Martin Funeral Home
365 West Main Street
Mt. Vernon, KY 40456
Memorial Contribution
Hannah's Care Packages
In lieu of flowers, the family requests donations in Lynnox's name to Hannah's Care Packages at PO Box 329 Richmond, KY 40476 or www.hannahscarepackages.org.